Our Books
ORDER THESE EAST END PRESS TITLES TODAY!
The beauty of the East End of Long Island comes to life in this gorgeously illustrated children's book by North Fork chalk artist Kara Hoblin.
Hoblin's transformation of the alphabet into splendid works of art, coupled with whimsical text, will engage adults and children alike as they journey through the East End of Long Island. Every stunning letter of the alphabet is bursting with brightly colored images for readers to identify and match with each letter. From cozy inns to seaside villages to the wide variety of wildlife, this book beautifully captures the very essence of what makes the East End of Long Island such a magical place.
MONTAUK HAS A VERY BUSY SHARK!
Written and Illustrated by Nina Ross
Montauk Mike is a very busy shark!
He's organizing and playing with all of the treasures he's collected. Till one day, he is confronted by a very crabby crab who claims that Mike's "trash" is blocking his home.
But is it trash? Or is it a treasure?
Join Mike as he sets off on an adventure, with his friends, to answer that very question.
Featuring stunning, original watercolor artwork by Nina Ross, Montauk Has A Very Busy Shark! is a charming story that teaches us to value the greatest treasure of all.
MONTAUK MIKE'S VERY FIRST CHRISTMAS!
Written and Illustrated by Nina Ross
Montauk Mike, everyone's favorite fish, is back this holiday season with a new adventure. Join him as he celebrates his very first Christmas!
Toddlers and young readers can join alongwith Mike, The Girl in the Pink Dress, Sparrow, and the rest of their farmyard friends, as they have new adventures and learn how to overcome obstacles.
Beautifully illustrated by Nina Ross, Montauk Mike's Very First Christmas! is a festive tale about the meaning of friendship and giving.
MONTAUK HAS A VERY HUNGRY SHARK:
A Montauk Mike Adventure
Written and Illustrated by Nina Ross
Inspired by a shark sighting while on vacation, Nina Ross created Montauk Mike, a very lonely shark who lives in the ocean near Montauk, NY. In Montauk Has a Very Hungry Shark, Mike has a very big wish: To find himself the perfect dish! Toddlers and young readers will delight in Mike's adventures as he dons a disguise and travels the towns and villages of Long Island's East End in search of the perfect ice-cream sundae. Along the way Mike discovers getting what you want is not always easy, but with the help of new friend and a little kindness, things work out in his favor.
Featuring stunning, original water-color artwork by Ross, Montauk Has a Very Hungry Shark is a gentle tale about searching for what you want and learning the importance of friendship and kindness.
MONTAUK HAS A VERY LUCKY SHARK:
A Montauk Mike Adventure
Written and Illustrated by Nina Ross
Montauk Mike is feeling lucky!
Everyone's favorite friendly fish, and the star of Montauk Has A Very Hungry Shark and Montauk Has a Very Lonely Shark, returns for a third adventure. Join him on his quest to identify a tiny treasure he finds on the ocean floor, which he fondly calls a "smoon."
Toddlers and young readers will delight in following along as Mike heads ashore to find out what the "smoon" could be. But his luck suddenly changes when his treasure goes missing. Will his friend, the Girl in the Pink Dress, help Mike to find it and learn what it is?
Featuring stunning, original watercolor artwork by Nina Ross, Montauk Has A Very Lucky Shark is a wonderous story about teamwork, friendship, and what it takes to find happiness.
MONTAUK HAS A VERY LONELY SHARK:
A MONTAUK MIKE ADVENTURE
Written and Illustrated by Nina Ross
Montauk Mike is all alone!
Montauk Mike, everyone's favorite friendly fish and the star of Montauk Has a Very Hungry Shark, returns in a second adventure. Join him in his quest to find a friend of his very own.
Toddlers and young readers can join Mike as he sets out to find his one and only friend: the Girl in the Pink Dress. As he travels the waterways and villages of Long Island's beautiful East End, Mike meets a variety of animals, some helpful and some not. Poor Mike! All he wants to do is find his friend.
Featuring stunning, original water-color artwork by Ross, Montauk Has a Very Lonely Shark is a gentle tale about searching for what you want and learning that sometimes what you are looking for is right in front of your eyes.
MONTAUK MIKE'S VERY BUSY ACTIVITY BOOK
A great coloring and activity book for fans of everyone's favorite friendly shark!
Montauk Mike is off on a new adventure and young minds will delight in coloring pages, navigating mazes, completing dot-to-dot puzzles, matching words to pictures, simple counting, word searches, jumbles and more!
Includes one sheet of stickers featuring Mike, the Girl in the Pink Dress and many more.
DON'T ASK MY NAME:
A Hidden Child's Tale of Survival
Born Jewish in Hungary in the 1930s, Erika became a "Hidden Child," one of many Jewish children who were provided with false identities and survived the Second World War as Christians. The lies she had to tell and the secrets she was forced to keep sent her on a lifelong search for identity, until she is finally ready to tell her gripping true story.
Erika is only three when her divorced mother officially converts to Catholicism in hopes of protecting the family from the rising tide of antisemitism, but this is not enough to shield them from persecution, especially after the Germans occupy Hungary in the 1940s. Obtaining false identities and papers, they retreat to a small farming village where no one knows their true background, only to find themselves caught between the clashing German and Russian armies, both of which pose a constant threat to their lives and freedom. Now refugees in a fierce war zone, Erika and her family endure a harrowing struggle for survival that will forever leave its mark on her and her loved ones.
And even after the War ends, a "normal" life eludes Erika. When the German occupation gives way to a communist takeover, the family is forced to flee again, this time to Occupied Vienna in post-war Austria, where Erika must cope with the traumas of her past, while trying to make sense of her own identity as a Catholic or a Jew.
Don't Ask My Name is a compelling memoir of a woman's journey through one of the darkest chapters of the twentieth century – and the lies and truths we rely on to survive.
SCANDAL ON PLUM ISLAND:
A Commander Becomes the Accused
(A True Story)
"… A fascinating and unique tale that reads like a legal thriller. Social justice meets true-life suspense. You can't put this one down!"
– Nelson DeMille, best-selling author of Plum Island.
"Lindberg tells this tale in short chapters that end with cliff-hanger sentences and with a novelist's skill in creating dramatic characters and poetic settings."
– Joan Baum, NPR/WSHU
"A must read for military and 20th century historians!"
– Amy Kasuga Folk, Southold Town Historian and co-author, A World Unto Itself, The Remarkable History of Plum Island, New York
Scandal on Plum Island tells the story of Maj. Benjamin Koehler, whose 1914 court-martial on charges of homoerotic acts was called "one of the most sensational ever known in army circles" by a New York newspaper. Koehler's story illuminates changing standards of masculinity in the 1890-1920 period and features influential figures as different as Theodore Roosevelt and Susan B. Anthony.
In 1911, the Army sent Koehler to Plum Island, off Long Island, to improve discipline at Fort Terry, where soldiers had grown a bit lazy in their peacetime post by the sea. Koehler's educated younger sister, Sophia, came with him. "Some scoundrels have been making trouble for Ben," Sophia would later write. "A couple of officers whom Ben has had occasion to correct have gotten a dozen or more soldiers to swear to a lot of lies."
Were the accusers lying, using Ben's unmarried status to lend credence to their claims, or was Ben a manipulative sexual harasser of subordinates? Scandal on Plum Island lays out the evidence based on original research and analysis of the trial.
Thoroughly researched, Koehler's story is set in the context of changing standards of masculinity As the action moves from America's heartland to New York City, the Philippines, San Francisco, eastern Long Island, and government offices in Washington, D.C., Scandal on Plum Island speaks directly to modern discussions of gender norms, testimonial injustice, the high cost of stereotypes, and other issues of pressing concern.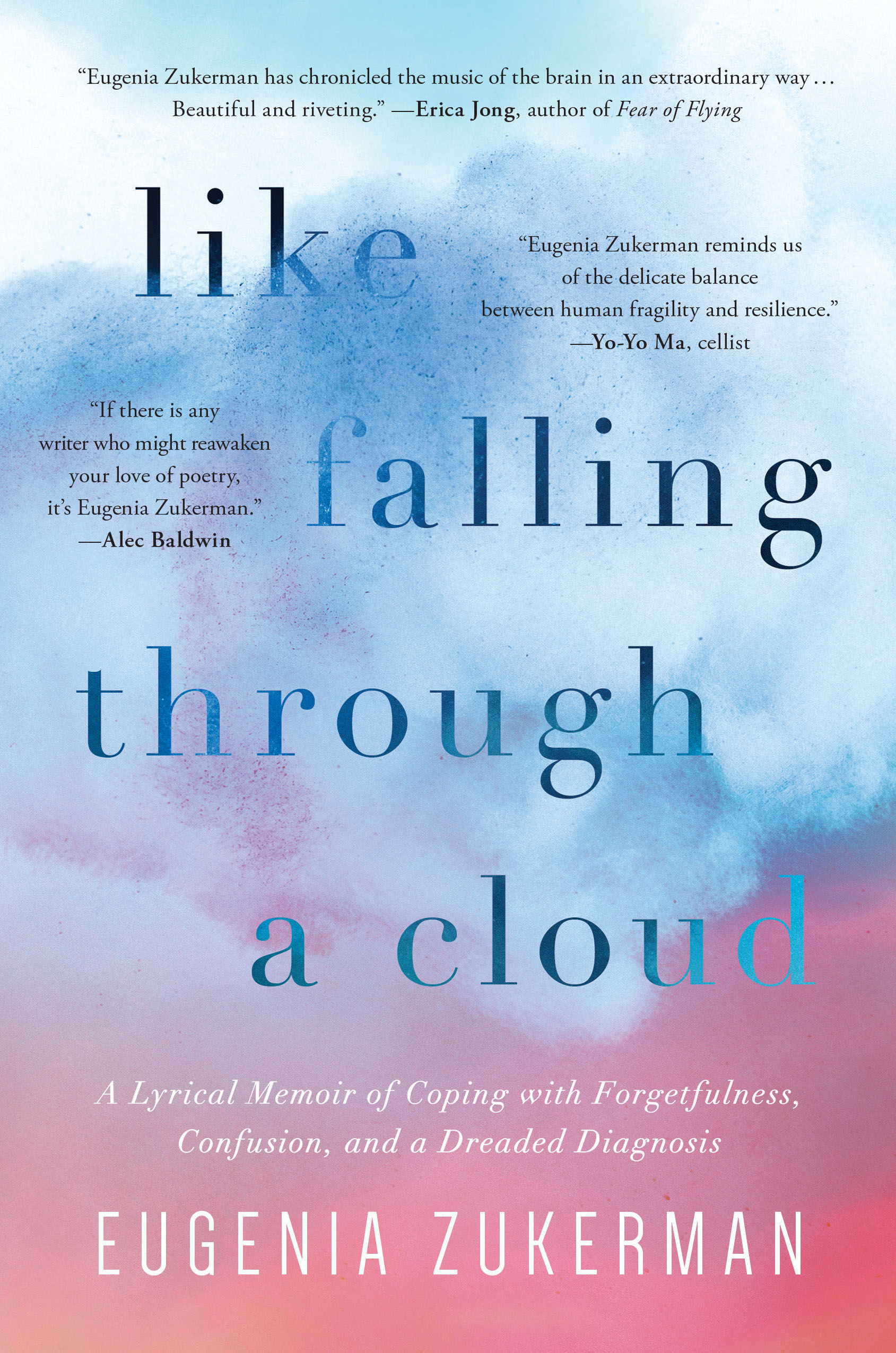 LIKE FALLING THROUGH A CLOUD:
A LYRICAL MEMOIR OF COPING WITH FORGETFULNESS, CONFUSION, AND A DREADED DIAGNOSIS
What if the dreaded world of Alzheimer's was also a world of emotional discovery? Eugenia Zukerman's poetry and simple prose, both heartbreaking and ultimately inspirational, ushers the reader into her world as she unflinchingly examines familial loyalties, moments from her past and present, and the need to face an uncertain future due to the diagnosis of a condition that she truly hopes "will remain unnamed." Flutist, writer, artistic director of major music series, television journalist, educator and internet entrepreneur, Zukerman addresses her "lapses and losses" as she confronts and deals with a future under the shadow of her Alzheimer's diagnosis. Touching, honest and fearlessly heartfelt, Zukerman recounts her discovery, consultations, and diagnosis, all while navigating the death of her 103-year-old mother, a performance at the Kennedy Center, and the consolidation of her life via a full-time move to upstate New York. As she finds strength in family love and the enduring power of creating music, Zukerman teaches us the importance of living-in-the-now, while accepting what comes next may remain a mystery.
A PASSIONATE JOURNEY:
A MEMOIR
Growing up as an outdoorsy, nature-loving child in Portland, Oregon, Robert Mann wanted to be a forest ranger. However, it was violin lessons―and his parents' encouragement―that ultimately launched him on a remarkable journey that would span a lifetime and five continents as he pursued his passion for classical music as a violinist, composer, conductor, and teacher. In this fascinating and far-ranging memoir, Mann looks back at the struggles and triumphs of that journey, as well as at the unique insights and experiences he's gained along the way.
From their beginnings in 1947, the Juilliard String Quartet set out to play new music as if it had been composed long ago, and to play a classical piece as if it had just been written. At first, the fledging combo struggled to compete with the more established European string quartets, while also coping with the inevitable difficulties of trying to blend four singular personalities and talents into a harmonious whole. Amazingly, by the time Mann retired from the group some fifty-one years later, the Julliard String Quartet had played close to six thousand concerts on every continent except Africa and Antarctica and had become an enduring, beloved institution in American music. They won three Grammys for their recordings, while also sharing their distinctive sound with such celebrated figures as Glenn Gould, Aaron Copland, Leonard Bernstein, and even Albert Einstein.
A Passionate Journey is a collection of essays, sketches, letters, lectures, and transcribed interviews, many in writing for the first time, from various points in Robert Mann′s life. Together they offer an engrossing glimpse into a life filled with musical milestones and into the fascinating mind of a musical giant.
SAG HARBOR:
100 YEARS OF FILM IN THE VILLAGE
By Annette Hinkle
Foreword by Jay McInerney
Sag Harbor: 100 Years of Film in the Village is a tribute to a century of movies on Main Street—from the silent era to Sag Harbor Cinema's nearly four decade tenure as the lat independent, single-screen theater on the East End.
While this book is a cinematic history, ultimately it is a love letter to a cultural institution that has served as the heart and soul of Sag Harbor for generations.
HAMPTONS
COLOR IN POSTCARDS
Order this bestseller while copies last! Beautifully illustrated with 20 perforated, color-in postcards of iconic Hamptons scenes.
The beauty of the Hamptons can be yours to create and share.
SIT-UPS ARE STUPID & CRUNCHES ARE CRAP:
HOW TO STRENGTHEN YOUR CORE, GET GREAT ABS AND CONQUER BACK
It's time to change the way you think about, and exercise, your abs.
Dr. Todd Sinett, a second-generation chiropractor and certified fitness trainer, explains why you should never do a sit-up or any version of a crunch ever again!
Sinett's innovative new book—which includes a detailed exercise routine (illustrated with photos) and a meal guide—teaches healthier and smarter ways to get great abs without compromising your back and neck anymore.
Sit-Ups Are Stupid and Crunches Are Crap, based on the science of flexion, addresses the key issue of core imbalance and the resulting (and totally unnecessary) pain. Dr. Sinett shows how achieving core balance will transform your flexibility, breathing, and digestion—and, yes, get you the abs you've always wanted. Great abs no longer have to equal great pain.
THE BACK PAIN RELIEF DIET
Dr. Todd Sinett
FINALLY, A SIMPLE, DIETARY SOLUTION FOR A PAIN-FREE BACK!
We are in a worldwide back pain epidemic. Twenty percent of the population is currently suffering from back pain, while 85 percent will suffer from it at some point in their lives. Back pain has become the number one reason for job disability, the number two reason for visits to the doctor, and the number three reason for hospitalization.
But what if there were a simple solution? Dr. Todd Sinett explains in The Back Pain Relief Diet that doctors aren't succeeding in diagnosing and treating back pain because they aren't targeting all the sources of back pain. And there's a big one they're overlooking: our diet.
The Back Pain Relief Diet helps you identify your diet triggers for back pain, which may include many so-called "healthy" foods. Dr. Sinett shares his own eye-opening experience of going on a health kick only to wind up with back pain at a surprising level.
The familiar saying "You are what you eat" is an oversimplification. According to Dr. Sinett, it's not what you ingest but how you digest your food that counts. When your digestive system is upset, this creates gut inflammation, which causes muscular inflammation, often resulting in back pain. According to Dr. Sinett: "Your diet could be the source of your back pain. Conversely, your diet can also be the solution to your back pain!"
The Back Pain Relief Diet includes:
a detailed overview of the medicine behind the back-diet connection
a Digestive Inflammation Test to help you determine if your back pain has a digestive cause
a Diagnostic Nutrition Test to determine which foods are causing your digestive distress
a choice of detailed meal plans, tailored to your sensitivities, to reduce inflammation and heal your back in the matter of a few short weeks
a Symptom Journal to record your journey to health through changes in your nutrition
If you suffer from back pain, The Back Pain Relief Diet offers simple, day-by-day recipes that could change your life. Read Dr. Sinett's "Patients' Stories" to see how diet changed theirs.
Eighty percent of people everywhere will suffer from back pain at some point in their lives, with many continuing to suffer for far too long. This statistic can be changed. Three Weeks to a Better Back is the key to granting relief to sufferers of all types of back pain in just 21 days!
Three Weeks to a Better Back offers a simple, three-pronged, three-week approach to treating back pain. Dr. Sinett helps you determine what type of back pain sufferer you are and then guides you to determine the source of your pain through his "Back Pain Inflammation" quiz. He then provides easy-to-follow tools for a customized treatment plan, including stretches, ergonomics, and structural care for all parts of the body, as well as a "No More Back Pain Diet" featuring delicious recipes and "Enerchi" techniques to help you cope with both daily and chronic stressors as well as negative emotions. With healthcare tips that you can quickly incorporate into your daily routine, Three Weeks to a Better Back is your total-body prescription for a back-pain-free life!
THE ULTIMATE BACKBRIDGE STRETCH BOOK
STRETCH YOUR WAY TO BETTER HEALTH! Release Tension. Regain Flexibility. Relieve Back Pain. Aging, exercise, and stress impact your body in many ways, leaving you sore, tight, or simply in pain. Even activities that don't seem harmful, such as sitting, can have adverse effects and make muscles stiff and achy.
Stretching is a gentle exercise that helps you loosen tender muscles, relieve discomfort, regain flexibility, and both prevent and rehabilitate injuries. It can be a natural way to cure pain and can even lengthen your life! This book is your guide to stretching your body, from head to toe. Not only does it include a quick total-body routine that you easily can fit into your hectic schedule, but it also illustrates individual stretches to target specific zones of your body. Featured are—tandem stretching, yoga and balance exercises, and most importantly, Dr. Sinett's Backbridge™, a revolutionary stretching tool. The Backbridge′s arched, contoured design maximizes a muscle's isolation and its stackable levels allow the user to alter the intensity of any stretch. The Backbridge™ is the ultimate, sure-fire technique to help you incrementally and comfortably fix your posture, train your core, and dramatically improve your flexibility. The Ultimate Backbridge Stretch Book includes:
A 15-minute, full-body stretch routine
A focused back stretch plan that counteracts the effects of flexion and relieves back pain
Tandem or partner stretching to increase intensity
A guide to targeting your tight spots
Balance and proprioception exercises to help you stabilize your body and avoid injury
Backbridge Yoga, allowing you to modify and grow in your yoga practice.
Dramatic history, lush scenery, and a colorful cast transport us to the time of Cuba′s turning point - the late 1950s. Set against the tropical landscape of Cuba′s countryside and the glamour of 1950s Havana, this moving story of Cuban life at a pivotal time in the country′s rich history will resonate with anyone who has experienced the loss of family or homeland.
With evocative language, vibrant characters, and explosive history, My Lost Cuba pulls us into a fascinating time and place, more meaningful in our political climate than perhaps ever before. It is a memorable family saga, a moving love story, and a well-told political tale.
The allure of the Hamptons is revealed in a new edition of this beautifully photographed book. In recipes, text, and exquisite pictures, chef and hostess extraordinaire Ellen Wright captures the sun, the sea, and the tastes of this exclusive resort area. Both seasonal and everyday entertaining are made easy in this elegantly photographed, full-color book, which illustrates how everyone can celebrate the four seasons with panache.
Over many years of successful entertaining, Wright has developed commonsense tips that she shares with her readers, including these five basic principles:
Keep it simple. Perfect and serve just a few dishes rather than try to dazzle with many.
Avoid last-minute panic. Organize early and stick to your plan.
Mix and match. This applies to both guests and china.
Get guests to help. This always breaks the ice.
Stay calm-don′t worry. If the dish is burned, whip up a little sauce or add some herbs.
In this updated edition, Wright not only adds more valuable tips and suggestions, but she also provides new ideas for customizing the recipes to suit special dietary needs. It′s no wonder Ellen Wright and her cooking continue to draw illustrious friends to her table. Her recipes are tried and true, and her invaluable advice on entertaining lets hosts enjoy the party as much as their guests.
FURRY & FABULOUS:
THE LIFE AND TIMES OF TAYLOR SWIFT'S CATS
Fans of the talented mega-star Taylor Swift will enjoy this peek into the glamorous life of her famous felines! Meet Doctor Meredith Grey and Detective Olivia Benson - two of the biggest celebrity cats in the world. In delightful illustrations they travel the globe, get gussied up for star-studded events, and have their own squad of celebrity friends. They're living the high life with no apologies, thank you very much. But they're also in for a big surprise: their loyal "assistant," Taylor, aka Taylor Swift, is just a tad more famous than they are. It's a shock to these lovable felines that will teach them important lessons on love, friendship, and living a meaningful life.
ORIGINS OF THE PAST:
THE STORY OF MONTAUK AND GARDINER'S ISLAND (The East Hampton Historical Collection)
The story begins in 1637 with the role of early English settler Lion Gardiner and his island in the founding of the Town of East Hampton. Many previous histories of East Hampton argue that the town was settled by farmers from Connecticut, Massachusetts, and England search of religious freedom. To the contrary, the origins of the town can be traced to the massacre of the Pequot tribe in Connecticut, the ensuing lucrative wampum trade with the Indians, and the fierce competition between the English and the mighty Dutch Empire over fur trade. Instead of a life of agrarian and religious tranquility, the first settlers of the town lived in an atmosphere of anxiety, fear, and even violence. For those interested in East Hampton′s earliest years, this 526-page, hardcover volume presents twenty-five articles written by authoritative sources on the history of Gardiner′s Island and Montauk—from the earliest settlement by the Indians, their role after the Pequot War, Montauk′s purchase by Arthur Benson, to Montauk′s more recent history of Teddy Roosevelt′s Rough Riders and Camp Hero.
REVEALING THE PAST
East Hampton Historical Collection
This sixth volume from the East Hampton Historical Collection series brings together for the first time the writings of four contemporary local historians: Norton Daniels, Sherrill Foster, Mac Griswold, and Hugh King. While much of the writings of our earliest historians are contained in the first five volumes of this series, the sixth presents the work of East Hampton′s more recent local historians, three of whom are still writing and lecturing on the history of our town. Organized chronologically with an extensive index for easy reference, this volume tells the story of East Hampton from its seventeenth-century beginnings to life in the middle of the twentieth century through the exploration of its unique places, events, industries, and organizations, as well as revealing the dramatic struggles and noteworthy achievements of both its renowned and everyday citizens. Here is a portal into East Hampton′s past by the historians of today. In their own unique style, each writer is driven by the desire to illuminate the past and to make the history of our singular town come alive.
Sign up to receive announcements about our upcoming books.